'KILLING' DOC'S DUO PLUNGES INTO ABYSS SEEKING JUSTICE, HUMANITY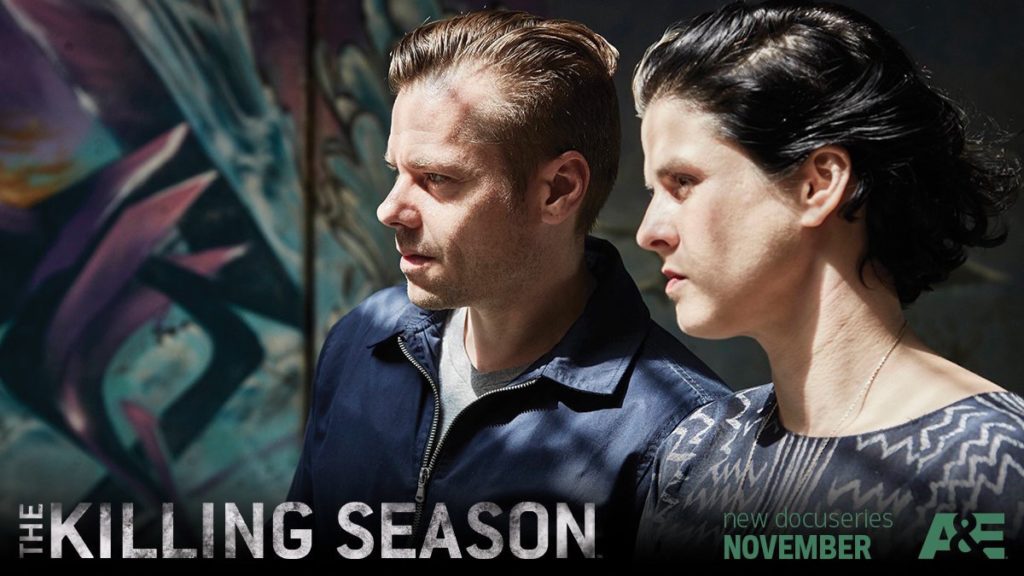 Nietzsche warned that when fighting monsters, beware not to become one. Josh Zeman and Rachel Mills warn that when hunting killers, take care to not to forget their victims.
The New York-based producers undertake the daunting task of hunting serial killers and puzzling through the horrors and sorrows left in the aftermath in A&E network's The Killing Season. The eight-part docu-series bows Nov. 12 and is as relentless in giving voice to forgotten victims and knitting together coalitions to study killers as it is in actually hunting for them.
The Killing Season begins simply enough, though, as a look into the unsolved murders of four prostitutes on Long Island. Zeman and Mills throw themselves into this case in their back yard, detailing the crimes, interviewing law enforcement officials, dropping in on family and friends of the victims, and following leads.
The trail of clues to the initial crimes, which originated in 2010, has long since gone cold, complicated by law enforcement bureaucracy and a lack of cohesive shared evidence and information.
"We are drawn to the idea of helping when police get stuck," Zeman says. He has experience with the subject matter, having produced and codirected another serial-killer-themed work, Cropsey, in 2009. He and Mills turn to cyber-sleuthing, websites and blogs dedicated with varying degrees to hashing out facts, creating serial-killer profiles and propagating theories. Websleuths.com stands out as a one of the more-credible resources.
As we watch, the team's scope steadily widens.
"Alex Gibney (the documentary's executive producer) encouraged us to look at bigger issues," Zeman says. So Zeman and Mills began drilling down deeper into their investigation of victims—they are nearly all prostitutes and/or drug-addled low-income women on the fringes—as well as the fractured methods to share data among law enforcement and a disturbing patterns of long-haul truckers. In theory, some of these long-haulers target prostitutes while crisscrossing the nation. It's a job, we are told, "perfectly suited for picking up a woman in one state and dumping her body in another." We also learn how the Internet becomes a deadly tool used by killers to target female escorts.
Zeman notes that in this era of social media, smart-device technology and web-savvy citizen across the nation, it was startling to learn that despite the wealth of information at our fingertips, there remains hurdles to unifying these resource into a comprehensive database that can be shared by law enforcement agencies.
"It's called linkage blindness," Zeman says. There's the FBI's Violent Criminal Apprehension Program (ViCAP) that makes data available to law enforcement agencies, but information is entered into ViCAP voluntarily, Zeman says. The input of data is not mandatory or consistent. While many law enforcement agencies collect data in their regions, the information is not typically connected with systems from other regions.
A powerful element of The Killing Season involves watching Zeman and Mills knit together information from this agency and that agency and match it with information gleaned from fastidious websleuths and geologists who can pinpoint possible burial sites and professors programing algorithms that deduce the hunting grounds of serial killer and amateur profilers who give their FBI counterparts a run for their money.
"Citizens have the most extensive databases we can access," Zeman says.
Meeting with victims' family and friends was about more than gleaning information about the cases, Mills says. It offered insight into the lives of often-invisible victims of these crimes. It was a difficult, but rewarding experience, she says. The love ones often emerged as keepers of the flame for the victims.
"Sisters in particular, they continue to tell these stories, keep the memories (of the victims) alive," says Mills, executive producer at Jigsaw Productions, whose work includes the documentary Killer Legends (2014).
The duo often appears fearless in documentary, whether calling up possible serial killers, or confronting a suspect directly at his home, or taking rides with supposed informants, or meeting clandestinely with mysterious characters.
"Josh was gung-ho," Mills says. "I had to work up bravery." But there she is right beside Zeman, journeying into potential danger. At times, the two had to haul around bulletproof vests, Zeman says.
"Of course we got nervous," Mills says, "but to make our point we had to be bold, to try to give theses women justice."
"These families were braver than us," she adds.
All told, the duo spent 175 days on the road in an emotionally draining experience.
"We'll see how people respond," Zeman says. "Our goal is not to solve one crime, but to solve a whole lot of crimes."
Take a look into the abyss on Nov. 12 at 9 p.m. ET on A&E.
| Marvin Brown's Movie Review Archive
| Home |
Social tagging:
A&E
>
Alex Gibney
>
bloghouse
>
Cleveland
>
Cropsey
>
database
>
documentary
>
FBI
>
In the Bloghouse
>
interview
>
Josh Zeman
>
Long Island
>
Marvin Brown
>
miniseries
>
Q&A
>
Rachel Mills
>
serial killers
>
The Killing Season
>
ViCAP
>
Webseluths.com